Traveling info
Travelling to Tampere
By plane
Tampere is easily accessible through the Tampere-Pirkkala international airport (20 minutes from city centre).  Year-round there are daily flight connections to Stockholm, Sweden and Helsinki, Finland and several flights a week to Riga, Latvia.
Starting from May 2022 there will be all-year-round direct flights from Tampere to Frankfurt, Copenhagen, Munich and Oslo three times a week.
By train
Taking the train directly from Helsinki-Vantaa international airport to Tampere takes about 2 hours. The train station is at the city centre and about 7 minutes' walk from the university campus.
Map of Tampere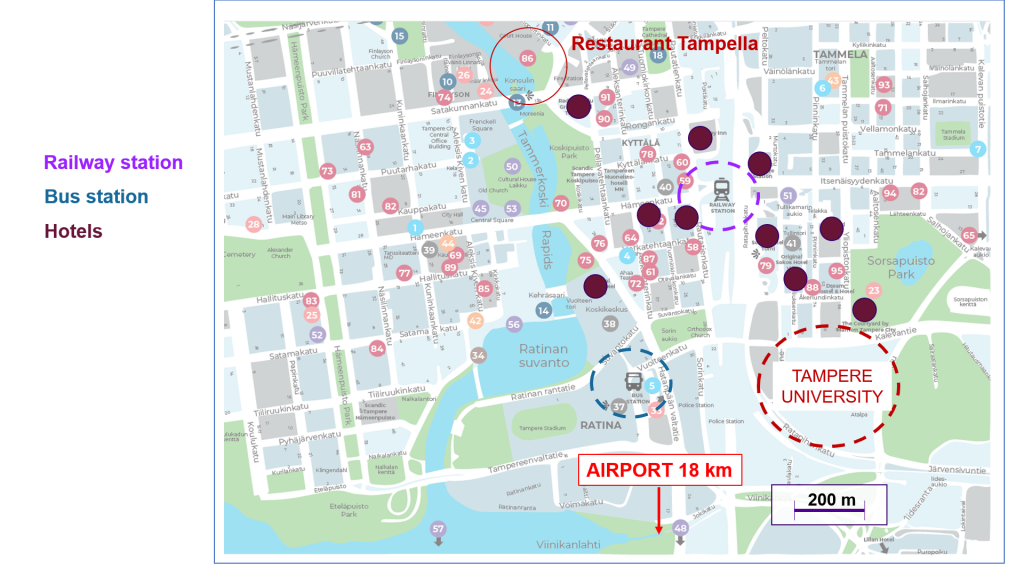 City of Tampere
Tampere is one of the best-kept secrets in Northern Europe. Surrounded by two large lakes that give the city its distinctive air of natural peace, Tampere (pop. 232,000) is a vibrant regional capital with an active cultural life and a versatile event scene. Tampere is the central city of the sixth-largest urban area in the Nordic coun-tries after Stockholm, Copenhagen, Helsinki, Oslo and Gothenburg; it is the third-largest city in Finland and one of the most rapidly developing regions in the country. Today Tampere is a city of culture, sports and education as well as a centre of technology, research and business. The city's tourist attractions include the landmark Näsinneula tower, the world's only Moomin Museum, Tampere Cathedral, Tampere Market Hall and the open-air markets Tammelantori and Laukontori, the idyllic Pyynikki and Pispala districts and the Pyynikki Observation Tower.
Tampere is a prime example of how the retailing industry is undergoing a transformation in the Nordic setting. At the same time as stores are closing, new shopping malls are opening in the city centre. Grocery retailers are investing heavily in e-commerce. The city is currently investing in the infrastructure, including building a tram and a new entertainment and sports arena in the heart of the city, with respective retail and service facilities. Additional possibilities for activities include visiting one of the biggest malls in the Nordic countries, Ideapark, which is 20 minutes' drive away from the city centre by bus.
Tampere is well prepared to welcome large international conferences. The city centre is compact. The city's hotels offer accommodation in various price ranges, and within walking distance from the university. The City of Tampere supports international conferences by hosting a complimentary reception at the City Hall.